5 Cool, Fun (and Funny!) National Poetry Month Projects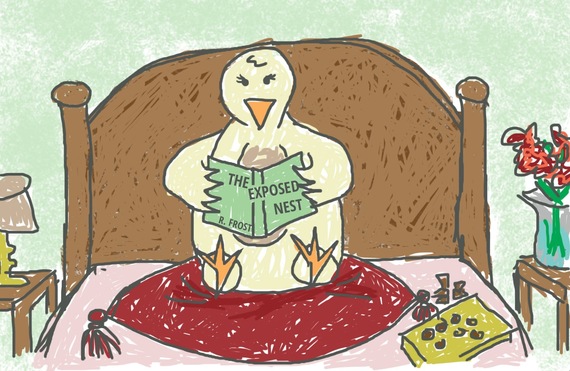 Illustration by LW Lindquist. Used with permission.

No, you didn't misread that. This fun project debuted on April 1st (fitting), with a full entourage of ticklish chicken comics to inspire you, featuring favored poets such as Emily Chickenson and P.B. Shelly.
From "Love Poultry" and a "Poultry Reading" to "Poultry on Your Pillow" (a play on the upcoming Poem on Your Pillow Day) and more, there are plenty of chances for you to crack a smile over this one.
Readers are invited to scratch out their own poultry poems--serious or funny. Some will be chosen for feature on-site.
Here's an early entry from art business owner Maureen Doallas. References include lines from Carl Sandburg, Lewis Carroll, Philip Larkin, Amy Lowell, Richard Brautigan, and Jack Prelutsky:
Last Night I Dreamed of Chickens
A Found Poem
Do you remember, I held empty hands to you
without a thought of eggs and bacon?
Stupid in candlelight, hearing rain,
waiting fulfillment. . .
It was all very simple:
Last night I dreamed of chickens.

Could three lines land you in Budapest? Indeed.
The exotic promise of this contest is not just penning a poem form that arose in the East, but also ushering yourself to the gorgeous Aria Hotel (if you happen to win the grand haiku prize) or a stay in the Poetry Room at The Library... Read More