The Inspiring Story Behind 'Living Level 3:Iraq'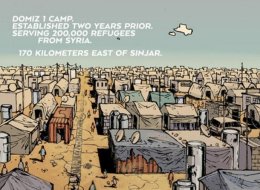 I was awake in my Erbil hotel room when the Muslim call to prayer, the Adhan, began. I was unable to sleep. It was my first morning in Iraq. I had arrived at 4 a.m. local time and was trying to get some rest before my initial briefing with the communications team of the World Food Programme (WFP) with whom I'd be traveling. I was anxious, nervous, happy, sad, and feeling very aware of my surroundings.

This was mid-December, 2014, and that morning I felt like I'd taken on a task that was possibly beyond me. WFP, the world's largest humanitarian organization, had brought me here to witness and research. We would make a comic book together about the massive undertaking of bringing food security to the Syrian refugees fleeing the war and to the Iraqi's displaced by the rise of Da'esh, the militant group calling itself the Islamic State. You can't tell that story without discussing horror and struggle, nor can you tell it without exploring the logistic difficulties, safety concerns and organizational hardships WFP workers themselves face daily. On that first morning I couldn't help but feel a little like a fraud. Like I was wasting resources and space that other, more valuable agents, could be using.
Then the Adhan began to unfold across the dawn lit city... Read More